Well, my plans for after my blog entry didn't exactly turn out too well.  I went in for a shower, came out feeling nice and refreshed, decided to relax and read my book for about 20 minutes…..and fell asleep!  That was about 7pm, and I just woke up 2 hours later when the family came home, meaning I have less than 3 hours until the day is over, and I still haven't done one fucking piece of work.  Oops.
So now I am going to work solid until midnight, at which point I should hopefully have a lot more done, and be able to relax, and play some more Saints fucking Row!  Hell yes.  I finally fucked around with my to do list and figured out a way to see how many items I have on it.  For those wondering – I use Turbonote to handle my to do list, as well as information I need to keep at hand(like poker confirmation e-mails, articles that I start to write etc).  Here's a (blurred) screenshot of my to do list: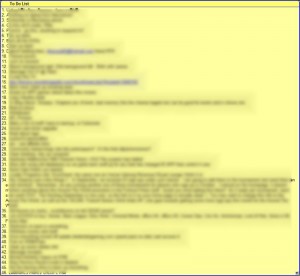 There was a time where you didn't even have to scroll down on that list.  Unfortunately, that time is long gone 🙁  I'm going to keep track of the items on that every time I post.  Current To Do List #: 74.  I hope to get that down to 65 by midnight tonight.  Back later!