Posted by Scotsman on November 12, 2008 in
Multimedia
|
∞
I'm sure most of you remember my big rant about Mad About You a few weeks back.  It put me off watching the show for awhile, however as I'm about halfway through season 5, I decided to stick with the show as I've only got 2 and a half seasons left.  And boy, am I glad I did.
One episode started off with Jamie bitching about how she hates being pregnant, people touching her stomach etc.  So Paul and Ira are on a bus, and they see a large woman come on the bus.  They think she is pregnant, offer her their seat, then carry her groceries for her, and end up touching her stomach and stuff.  Well, it ends up she isn't actually pregnant – just fat – standard sitcom mixup you can see a mile away.  Here is the lady in question: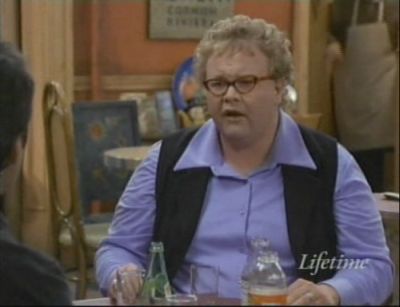 But this is where it gets good.  So after much grieving about it, Paul and Ira wait outside her apartment to apologize to her.  They take her to a coffee shop, and are all sitting down having a nice conversation.  The subject of parenting comes up, and Paul asks if she will ever have kids, and then says she would make a great mother.
One little problem:
She's a man.
She's a man.
She's a man.
Wow, felt good to do that.  Anyway the whole conversation, all the reactions etc were just legendary.  Brief transcript:
Paul: "Have you ever thought about having kids yourself?"
'Woman': "Oh I don't think so."
Paul: "I bet you'd be a great mother."
'Woman':"Excuse me?"
(Paul turns to Ira) "Don't you think she'd be a great mother?  She's so sweet, would make a natural great mother."
'Woman': "She???"
Ira: "Oh my god…"
[Awkward silence]
Paul: "…..what?"
'Woman': "You think I'm a woman??? You think I'm a woman???"
Paul: "You're a women aren't ya? PLEASE be a woman."
That line just killed me.  What a great thing to say.  Anyway, this episode has restored my faith in the show, and I'll hopefully be able to make it the rest of the series now.
Back to work – rakeback payments about 75% done.